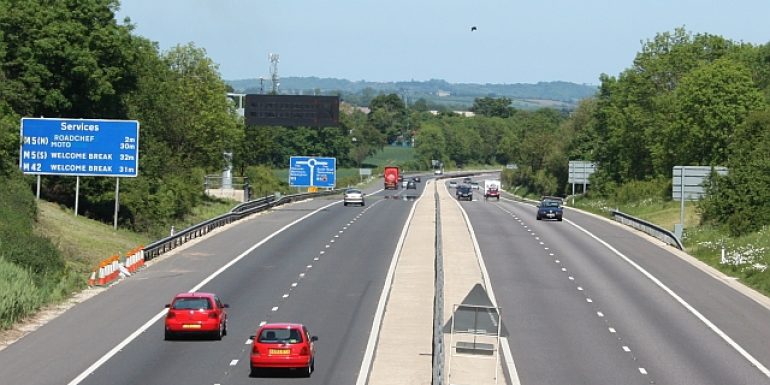 Learner drivers are required to avoid motorways, which means that most if not all new drivers have their first experience on a motorway after they have already passed their test.
If they're lucky, this experience will be part of a Pass Plus course with their driving instructor. However, if you're not yet at that point in your instruction, we thought it would still be helpful to give you a quick introduction to motorways – What they are, how they work, and the best way to drive safely on them.
The official classification of a motorway is a regulated road with fixed access points that have a minimum of two lanes in each direction. This is very similar to a Dual Carriageway, which you will have been introduced to as part of your driving lesson syllabus. However, motorway regulations mean that pedestrians cannot use motorways under any circumstances. Neither can mopeds and small motocycles under 50cc, cyclists, horse-riders, slow-moving vehicles, oversize vehicles, and other vehicles that may reasonably be expected to impede traffic.
While Dual Carriageways are usually found within towns and cities, such as those that comprise South London, and intended for short journeys within that town or city, motorways are intended to support high transport volumes at high speeds between different areas of the United Kingdom. Anything that affects the volume or speed of traffic is not allowed on a motorway.
The first motorway in the U.K. opened in 1958. Named the Preston By-Pass, it was the first road of its kind in the UK, intended to alleviate traffic in Garstang Road in Preston, which would regularly become blocked with traffic during rush hour. It was later merged into the M6, which is one of the approximately 42 motorways currently operating in the U.K.
The standard speed limit on motorways is always 70mph unless otherwise indicated by electronic overhead signs as dictated by the nature of the road (sharp curves, etc..), traffic conditions, weather conditions, and past accident data. This higher speed, and emphasis on traffic remaining unimpeded, is the primary reason why learner drivers are told to avoid motorways.
The speed limit on motorways is often enforced much more strictly than on other roads. Many motorways also make use of advanced radar and other tracking technology to measure your average speed across a large distance to ensure you're not breaking the speed limit at any point during your journey, so be mindful of this to stay safe on the road and avoid any unnecessary fines.
We hope this short introduction taught you something new about the motorway system in the UK. Any Approved Driving Instructor, such as those found at South London Driving School, will be able to teach you the foundational knowledge you need to approach motorways with confidence when you get your driving license. However, we always recommend that anyone worried about motorway driving after getting their license consider taking a Pass Plus course, which will allow them to have their first motorway experience with a qualified instructor by their side.